Well Since the last newsletter, we've found new frequencies...
Here's a sample of what's new....


| | | | | |
| --- | --- | --- | --- | --- |
| Frequency | Tone | Name | State | County |
| 151.3850 | 97.4 | Grayson Co SO - Fries, VA Repeater | VA | Grayson |
| 154.6800 | 141.3 | WV State Police BCI Division Bolt Mtn | WV | Raleigh |

Check out the Radio PhoneBook (link at bottom) for more.
---
Glade Spring Tornado

In the early hours of April 28th, a devastating tornado tore through Washington County, VA with catastrophic damage in several
locations along its path. One of the hardest hit areas of the county was Glade Spring, with numerous homes and buildings completely
destroyed at Exit 29. Washington County dispatchers went into disaster mode and activated a formal incident command once the sheriff's
command post had been setup. Many fire department vehicles were caught between this storm and the following storm that spawned the tornado.
That night 3 separate cells passed, producing more damage with each pass. As result the responders were trapped between downed trees and
their response was delayed. Mutual aid from many counties and Bristol, VA was fast to act and respond.

When the storm hit, around 75 listeners of the Wide Area feed lost connectivity; it was most likely due to them loosing internet/cell or power.
Both feeds were live the duration of the event and will contain valuable disaster training success and failure examples.
Recorded Audio will be posted once processed, our thoughts and prayers remain with the victims.




Comcast's Glade Spring Headend
See November 2010 Newsletter

While CATV was down for many, internet connectivity was still available for most of their serving market.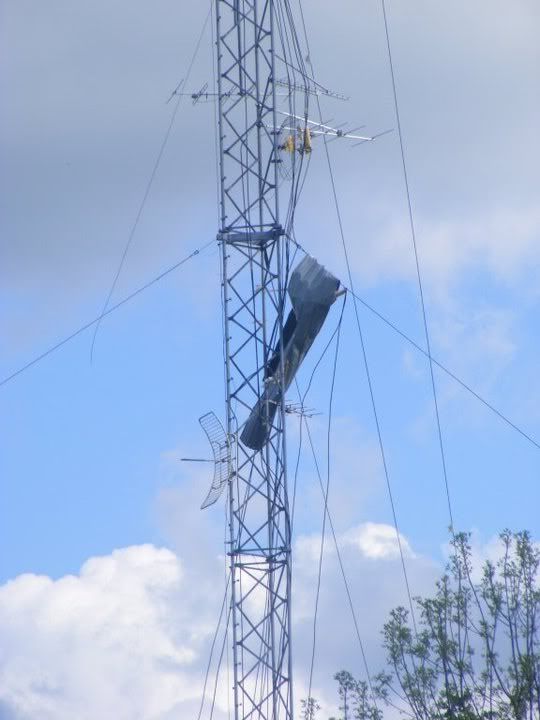 Photo Credit: Derek Anderson
---
Wide Area Feed Move
Wide Area Feed is at its new home!

Thumbnails - Click to Enlarge

A short Diamond X50 is in place till a new X510 antenna arrives the first week of May. The old (15 years+) antenna
had some lightning damage from several strikes which lead to water damage. Amazingly, the extensive grounding
protected the antenna and structures from further damage. And it still worked!
We plan to refurbish and use for expeditions.
---
Media Section Update

The media section at scannerfood.com contains 2 newly extracted / spliced recordings.
The first, a shooting in Bristol has been time compressed.
The second, is a collage of the Severe Weather on 4/9 covering several hours in about ten minutes.

Chronological time order is maintained in both.
| | |
| --- | --- |
| Pace Drive Shooting (4/7/11) | Bristol, VA |
| Severe Weather (4/9/11) | Washington Co, VA |
---
Scanner Android Apps
https://market.android.com

We highly recommend the following, if you have a paid subscription at RadioReference.com, (or provide a feed and get it free!)
its worth the one time charge of $2.99 to not only remove the ads but give you seamless access to archives.

Scanner Radio Gordon Edwards Free
Scanner Radio PRO Gordon Edwards $2.99

---
Radio Shack Discounts

Keeping tabs with our twitter account?

Through a deal with our local Radio Shack they are now able to occasionally offer discounts when you tell them

"Scannerfood sent me"

These discounts are usually limited to one day and may vary in nature, most recently they have been 10% off weather radios.

Follow, Shop, Save!

Frequencies are no good without a nice shiny new scanner!


Check em out, in the meantime...be sure to follow @scannerfood and be alerted when we're able to be used a referral for a discount.




ELECTRONICS RS DEALER #22-N069
406 CUMMINGS STREET
ABINGDON, VA 24210
Phone: (276) 619-9656